Vendor:

Regular price

Sale price

$94.00 USD

Unit price

per

Vendor:

Regular price

$299.00 USD

Regular price

Sale price

$299.00 USD

Unit price

per

Vendor:

Regular price

Sale price

$19.90 USD

Unit price

per

Vendor:

Regular price

Sale price

$24.99 USD

Unit price

per

Vendor:

Regular price

Sale price

$24.99 USD

Unit price

per

Vendor:

Regular price

Sale price

$39.95 USD

Unit price

per

Vendor:

Regular price

Sale price

$35.00 USD

Unit price

per

Vendor:

Regular price

Sale price

$29.95 USD

Unit price

per

Vendor:

Regular price

Sale price

$67.99 USD

Unit price

per

Vendor:

Regular price

Sale price

$10.00 USD

Unit price

per

Vendor:

Regular price

Sale price

$17.00 USD

Unit price

per

Vendor:

Regular price

Sale price

$30.95 USD

Unit price

per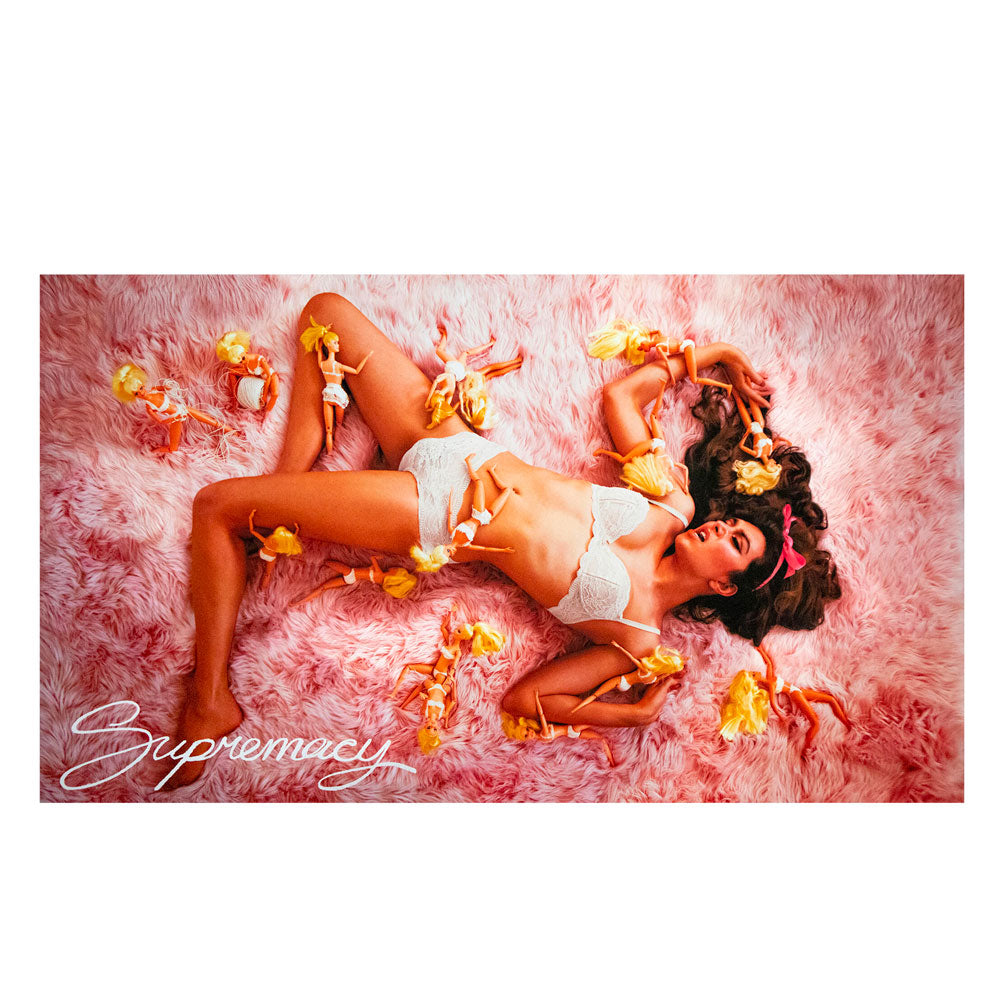 THE WHITNEY, Martine Gutierrez: Supremacy Sept 2022–Mar 2023
In Martine Gutierrez'sSupremacya brunette model lies on a saccharine pink shaggy rug—her "broken doll" pose recalls Tyra Banks's early-aughts showAmerica's Next Top Model. With mouth open in an apparent state of rapture, the model is played by LGBTQ rights activist and artist Martine Gutierrez (b. 1989), in an image that she also conceived, produced, and photographed. Blonde Barbie-like dolls are scattered across her body, echoing her lingerie and pose. Closer inspection reveals, however, that these are not innocent dolls. One pulls Gutierrez's hair, another pushes her thigh. The expression one might have mistaken for pleasure now reads of pain; and the pose, in this context, resembles a chalk outline drawn at a crime scene. In this advertisement, the model is under attack by figurines representing sexist ideals of perfection. Written boldly in white, Supremacy is the brand.
more
museum features
MoMA

MoMA11 West 53 Street, Manhattan

Open, 10:30 a.m.–5:30 p.m.

more

Whitney

Whitney Museumof American Art
99 Gansevoort Street
New York, NY 10014
(212) 570-3600

more
MOMA, New York
Barbara Kruger
Thinking of You. I Mean Me. I Mean You.
Through Jan 2, 2023
"I try to make work that joins the seductions of wishful thinking with the criticality of knowing better,"Barbara Krugerhas said. An incisive critic of popular culture, Kruger addresses the viewer directly as a way of exposing the power dynamics underlying identity, desire, and consumerism. Kruger's large-scale commission for MoMA will envelop the Marron Family Atrium with the artist's bold textual statements about truth, belief, and power.
more
gallery features
Locations:

Fouded in 1992 - Zurich • London • Somerset • NYC • Los Angeles • Hong Kong • Gstaad • St. Moritz • Monaco • Menorca

more

Locations:

6 in New York • Beverly Hills • London • Paris • Geneva • Basel • Gstaad • Rome • Athens • Hong Kong

more

Locations:

New York • London • Paris • Hong Kong

more
Auction house features
Founded in 1766, Christie's is a world-leading art and luxury business. Renowned and trusted for its expert live and online auctions, as well as its bespoke private sales, Christie's offers a full portfolio of global services to its clients, including art appraisal, art financing, international real estate and education. Christie's has a physical presence in 46 countries, throughout the Americas, Europe, Middle East, and Asia Pacific, with flagship international sales hubs in New York, London, Hong Kong, Paris and Geneva.

News

Sotheby's presents a series of auctions showcasing masterworks spanning over a century of artistic production. With auctions and exhibitions in New York, London, Hong Kong, Paris, Milan, Cologne and Zurich, the offerings present a showcase of the major artistic movements of the 20th and 21st centuries, from the innovations of the Impressionists to the groundbreaking works of Contemporary masters and designers.

News

Heritage Auctions is the largest collectibles auctioneer and third largest auction house in the world, as well as the largest auction house founded in the U.S. We are also the undisputed Internet leader in our field, with more than 1 million online bidder-members registered on HA.com. This loyal and growing community of collectors is a testament to the usefulness of our website, our reputation for professional business practices and our vast expertise in the field of art and collectibles.

News